Be & organized
Easy to create flashcard. Acess to your flashcards from home, school and work place with internet connection.
Be & efficient
Study anywhere online & offline whenever you have few minutes here and there.
Be & smart
Using Leitner system to track your progress, readiness for the exam.
Awesome Features
This is the greatest app to help you with your exams
Premade Flashcards
Start studying right away with millions of premade flashcards
Study by listening
Listen to your flashcards to improve your memorization
Leitner system
Keep track of your progress by Leitner boxes system
Study everywhere
No more carrying paper flashcards with you. Study both online and offline
Reminder
Remind you when you are about to forget to maximize your memorization
Excited games
Study with games to have fun while studing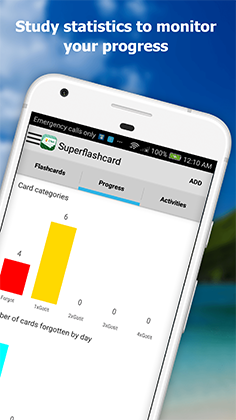 Extra Crazy Features
The best flashcards app with built-in Leitner system tracking with notifications. Remind you at the right time
Easy to use.
Tracking your progress
No boring study with games
Study on the go
Leitner system
Trying to memorize everything you need for your exams and tests can take a long time. However, spaced repetition can help you speed the learning process up significantly - and it can complement almost any other study technique.
This video dives into the history behind this technique, explores how it affects our memory (through what's called the Spacing Effect), and shows you exactly how you can use it both with paper flash cards and with apps.
Screenshots
The best flashcards app to study for your exam! Look at the screenshots!